Koyama G provides wide-area support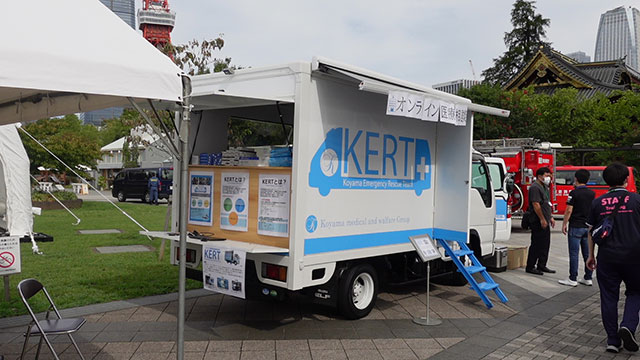 Yesterday, we held a disaster prevention drill in a park with a view of Tokyo Tower.
There was also a fire truck and a car to experience an earthquake, and the event was crowded with children from a nearby nursery school.
The large disaster tent used by the Self-Defense Forces automatically stands up in 10 minutes using air pressure.
There was also a rubber boat for disaster relief that would never break.
This is also a purveyor to the Self-Defense Forces.
Frozen foods that are colored in the event of a disaster are provided by companies.
Of course, you can defrost it and enjoy it deliciously on the spot.
These are the cooperative participations of companies with which Kosan G is affiliated.
Koyama G's corporations from all over the country also participated, selling rice and yakisoba noodles from their respective regions for people to enjoy.
The experience of eating stocked emergency food is important, but with support from all over the country, warm, delicious meals are prepared and served on the spot.
Hot meals and delicious sweets are essential during long periods of living in disaster-stricken areas.
High-quality Japanese sweets that can be eaten without tea are the most popular.
In the case of support from all over the country, send items that are known to be local specialties.
Then you can see the sender's face.
I can feel your feelings.
People talk about regional cooperation and support networks, but it is the disaster welfare network that conveys the warmth of people's hearts face-to-face.
The disaster prevention commemorative lecture at Ikiiki Plaza was given by the Fire and Disaster Management Agency Commissioner at the time of the Great East Japan Earthquake.
If you think about it, I think that was the first time that the national government mobilized fire departments on a nationwide scale in response to a major earthquake.
Also on stage were three hospital directors and the doctor who heads the facility.
In the event of a major earthquake in the Tokyo metropolitan area, we are also considering setting up online clinics in evacuation centers where doctors, pharmacists, and nurse practitioners can provide medical care.
Yesterday, there was a breakfast meeting with the former Minister of Health and Welfare and the current Minister in charge of Infectious Disease Crisis Management.
He is my classmate in junior high school, and I rely on him.
There is a high possibility of coronavirus clusters occurring in evacuation centers.
Even if you survive the earthquake, it is not easy to continue living afterward.
Accepting support from all over the country.
Evacuate across the country.
I would like to see helicopters and hospital ships placed in each prefecture for rescue purposes.
A special coronavirus countermeasure vehicle cart that functions as a mobile testing room has also been set up in the park, but cart ships may also be needed eventually.
We believe that ships should be allocated to the Setouchi Inland Sea.
Cruiser owners.
Would you like to create a Thunderbird fleet?
I am a 1st class captain's license holder.
Captain Paver has never steered a ship before.
Pulse oximeter 99/98/98
Body temperature 36.5 Blood sugar 185
Silent Fleet
CEO, Yasunari Koyama