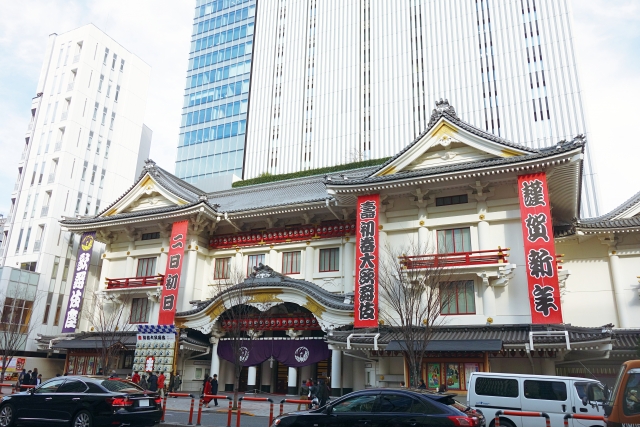 When you say go to Ginza, the range of destinations is wide.
You might think that Kabukiza is located in Tsukiji, but the area around Kabukiza is labeled as Ginza.
There are movie theaters in Ginza, but most are in Yurakucho and Hibiya.
Takarazuka is Hibiya, but I don't often say I'm going to Hibiya.
Everyone says they are going to Ginza for some reason.
Shiodome also has museums and theaters, but when I go to Shiodome, I don't hear much about it.
The image of Ginza is big. wide.
The clinic in Ginza is located on the 16th floor of a skyscraper that is integrated with the Kabukiza Theater.
A huge office building was built using the building volume of the land of the Kabukiza Theater. Even if you stand in front of the Kabukiza, you can't see the building behind it.
It is a brilliant design by Kengo Kuma.
I think Shochiku also has more income from real estate.
I would be happy if you could invest in Kabuki and movies instead.
I went to see the Kabuki performance yesterday.
Along with the Lifetime Service Award winners.
Kabukiza is a restaurant inside and eats Shokado bento.
Lunch at the theater.
Normally, it would be accompanied by alcohol, but recently I refrain from doing so.
Still, it's a real pleasure to watch a live performance from a good seat in the front.
Since Koyama G is located all over the country, there are many staff members who cannot usually meet.
I have been working in medical care for 25, 30 years.
With that alone, I can't help but feel respect and gratitude.
In Ginza, get a medical checkup, watch Kabuki, and have your mind and body refreshed.
I myself spent a fun and heartwarming day in bustling Ginza.
Thanks to Koyama G.
On the stage, many children who will be responsible for the next generation appeared.
It was a face-to-face performance, but the audience applauded warmly.
The sense of unity between the actor's family and the audience is irresistible.
Actors and audiences are connected as parents and children.
The culture of Ginza is handed down from parent to child, even to the customers.
I think I first saw Kabuki when I was in middle school.
It would be great if the staff could also enjoy watching Kabuki with their parents.
Danjuro is the main character, but Danjuro has power and dignity.
His predecessor was a member of the Rotary club, so I started going to Kabuki as well, which made me very happy.
Kabuki actors are said to grow their art by playing.
Maybe I didn't play enough.
Saying that, there is nothing to play from now on.
It won't be long until the young staff member, Koyama G, is on stage and applauds from a seat that doesn't stand out.
Until that day, I will cherish each day and continue to stand on stage.
Now is the time to take off the stage make-up and be alone.
In the meantime, as an individual, worldly desires run around.
So I take a bath in the morning.
I can't wash it away.
Pulse oximeter 99/98/98
Body temperature 36.6 Blood sugar 154
Breakfast consists of steak, fried eggs, and udon noodles.
CEO Yasunari Koyama