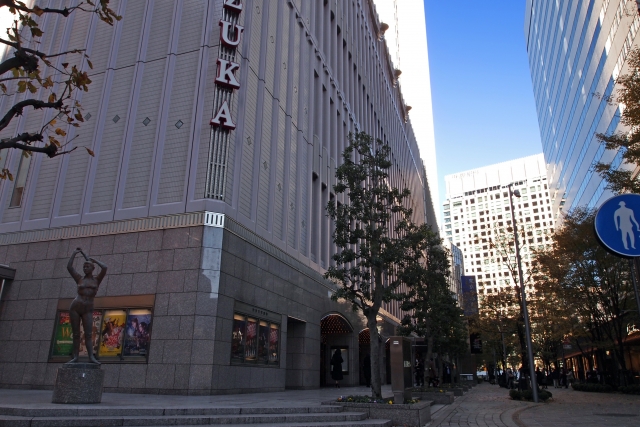 (The Takarazuka Revue is a Japanese all-female musical theater group)
The movie districts are Yurakucho and Hibiya.
Takarazuka is Hibiya.
Kabukiza is in Ginza.
In that respect, I am subtly particular.
Last night, I went to Takarazuka for the staff appreciation party.
It's been a while, but of course it's full.
I wonder if the number of male customers has increased a little.
There has become more casual wear?
Overall, I feel a little rejuvenated.
I was told by my companion that this was probably due to your age, and I had no choice but to accept it.
I think I was a teenager when I was first taken to Takarazuka.
I think I was with my mother and aunt.
Takarazuka is not a place to go on a date.
This is because a real man cannot compete with a beautiful woman dressed as a man.
In the Middle Ages, only men were allowed to perform in Shakespeare theatres.
It was common all over the world for men to play female roles.
I've heard that there are Kabuki female roles in Thailand as well.
But I have never heard of an all-female theater company anywhere in the world.
Moreover, the otokoyaku is a popular star.
The female role of the female role is the partner of the male role.
Both the story and the structure of the show have become classics.
No one thinks it's a rut.
I can't go home without seeing the finale.
The true value of Japanese musicals.
In that respect, Indian masala movies have something in common.
Anyway, you can forget the painful floating world and immerse yourself in the happy world of love.
The program was enjoyable with many songs and dances.
It may be important to say Hanagumi.
If you can see Takarazuka every day and go to work, you will be full of energy.
You may not want to go to work.
Pulse oximeter 97/97/97
Body temperature 37.0 Blood sugar 260
Today is the Tokyo Marathon Taran, the accompanist of life
CEO Yasunari Koyama